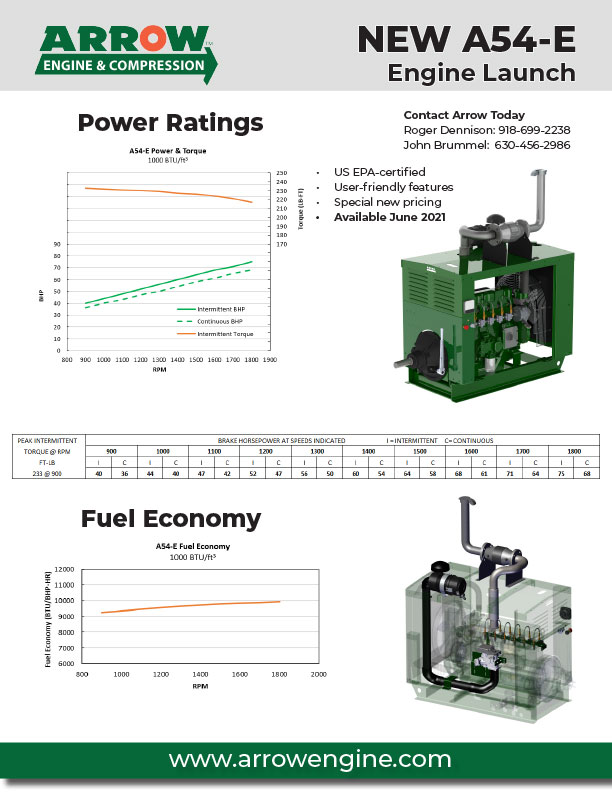 Click here for flyerArrow Engine Company has announced the launch of the A54-E engine platform, the company's first in a line of Large Spark-Ignited, EPA-certified engine models for stationary and nonroad mobile applications.
The A54-E is an inline six-cylinder, 5.4L industrial engine with bore and stroke dimensions of 100.9 x 118.49 mm. Naturally aspirated, it incorporates two valves per cylinder, a pushrod-style valvetrain, replaceable cylinder sleeves, and a dry air filter and spin-on oil filter. With a 17.5-qt. oil capacity, the A54-E has an oil change interval of 750 hours. The engine is rated 68 hp continuous, 75 hp intermittent at 1,800 rpm and peak torque is 233 lb-ft at 900 rpm.
The new A54-E is a modernized version of the tried-and-true A54. The engine comes equipped with the Woodward PG+ engine control system to offer industry-leading air, fuel, ignition, and governing control as well as bi-fuel capabilities (propane and natural gas). The J1939 CAN-based system also allows Arrow to enter the arena of IoT-connected engines, giving customers the ability to incorporate telematics devices for remote monitoring of engine information and diagnostics.
Exhaust aftertreatment is carried out with an integral-style, three-way DCL catalyst that provides additional margin compared to the cheaper automotive-style catalysts used by Arrow's competitors. The A54-E is certified to U.S. EPA stationary and nonroad mobile standards for pipeline natural gas, propane, and wellhead gas with BTU content ranging from 700-1,600.
The standard control panel offered with the engine is a customized color display which includes numerous digital gauges for monitoring engine, fuel system, ignition system, and AFR system status and vitals in addition to displaying DM1 and DM2 fault codes. The display also allows for configuring a variety of user-specific setpoints, timers, and engine settings to tailor the engine to each application.
Given the new technology associated with the changes above, the A54-E allows Arrow Engine Company to expand its current product lines into new markets such as mobile and standby power generation, industrial applications, mining, and agriculture. "Arrow will provide end-to-end engineered solutions to these and other markets, consisting of value-added services such as EPA certifications, fabrication, design, and assembly," said Arrow Engine General Manager Terry Hall.